Washington Tyne & Wear International Kite Festival 1995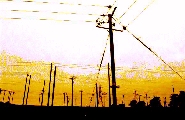 Traditionally, kite fliers are one of the worst enemies of the folk who put up power lines. Most Electricity company executives would be only to happy to see all kite flying banned. Northern Electric (one of the British regional electricity companies) are different. Rather than opposing kites, they take the positive approach and *encourage* safe flying. This year, they invited Mr Sakuraba, from Japan, Maurizio Angletti from Italy and Detlef "Moustache" Kohler from Germany, who spent a whole month going round the local schools, teaching the children about kite building (they built around 4000!), kiteflying and safe flying. The scheme works well, they have the best record for power-line safety in the country.

The culmination of the campaign comes when Northern Electric join forces with Sunderland City council to present a spectacular 2-day festival organised by Malcolm Goodman. And a *festival* it is - this is no fly-in with a couple of traders and a burger-stand, the large site was bubbling with activity all day. They used 3 generous sizes flying fields to showcase every form of kiting, but also had 6 giant marquees to house all the other activities.
The flying fields were run with a refreshing combination of friendly efficiency to a commentry by George Webster. Highlights included:

Stafford Wallace was widely tipped to win the altitude sprint with his tiny Indian fighter, but on both occasions, was surpassed at the last moment. He came back to demonstrate his complete mastery of the manoeverable single-liner. He showed off his party trick, which is to release a helium balloon with a cotton thread attatched, intercept the balloon in the air, then twist his line round the thread enough to wrestle the balloon back down to his hands.

A rare picture managed to catch evidence of him cheating. Don't believe all he tells you about releasing the line - as you can see from this photo, he uses antenae on his head to control the kite.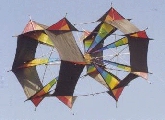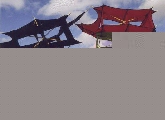 When the call came to launch all the box kites, there were soon 52 of them in the air. A giant rotating box by John Eaton impressed both fliers and public alike, but also of note were more traditional kites, such as the Cody's and a big Bell tetrahedral by builders such as Paul Chapman and Alid Lewis.
Stunt flying wasn't allowed to dominate the event - there there was a display by the all-girl's team "Dreams of flight", including team work, a Rev demonstration and a solo performed with at 150' tail.

Mark Coventry formed his own one-man team, putting on an impressive show flying 3 kites at once, demonstrating not only that he could perform the trick, but that he could do it *well*.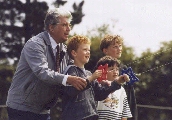 For me, the highlight of the stunt flying was meeting Peter Powell, the flier responsible for modern 2-line flying. A quiet, gentle unassuming man, he shunned the spotlight to spend time in the field with his trusty stunter, teaching kids how to fly, a genuine ambassador for kiting.
Jack Crouch, chairman of the Northern Kite Group is a stallwart of the Washington festival, helping out in his own quiet way (when things go wrong and you need a sewing machine, Knock on Jack's caravan and you'll get sorted out). Jack's toy this year was a sled. Not just a little sled like the kids were flying - this one was 50' wide, and 30' tall (not counting the huge tail). It was modestly emblaisoned with his name in 9' letters...
Iqbal Husain brought his sense of humour all the way from Switzerland He turned up with cages containing the animals that were to head his modern variants of the traditional Chinese dragon trains. An intricate crocodile head was held up by a body that trailed high into the sky, but closer inspection revealed that each body segment was, in fact, a crocodile skin handbag. Another train was headed by a large chicken, (containing eggs, of course) with a long train of frying pans.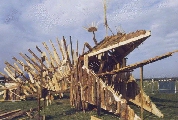 There was a strong art theme running through the entire event. During the two days, the local Arts Resource group built a sculpture of a Magnificent bird and fish, with the help of children who attended. There were a number of entertainers, fire eaters, stilt walkers and musicians who would simply ply their art in the midst of the crowds without stage or announcement. One moment, you would be listening to a marching jazz band that had come from Germany to play at the festival, then you would turn round to see bizarre stilt men, casting a giant black playsail over folk who appeared to have come from outer space to visit Washington.
The art theme carried over into the kite flying field. The European Air Gallery built 9 large white Edos and passed them to artists from all over Europe for decoration. The results were impressive and surely fitted the organiser's plan of a "Sky gallery".
While this was bringing artists to kiteing, there was also a competition, encouraging artistry amongst the fliers. First place was taken by Frank Schwiemann from Germany flying a very tall thin kite, with an abstract design.
Frank entered into the spirit of the event by erecting a wind sculpture, a simple design of ribbons wound between stakes, which hum, buzz and whistle in the wind, adding to the ambience of the event. Even the small puffin fighter that he flew was a work or art.

Buggying was demonstrated by the Flight FX team, but the artistry of the event reached even into this camp where at the end of the day, they developed the impromptu "ceremony of the flags", where they would make a display with the set of :ynn banners. Peter Rieleit from Germany brought his own brand of kite traction - from his giant birds, he chose his seagull to provide the power to transport him round the event on a bicycle!

Ever since the first Washington festival 10 years ago, there has been a strong connection with Japan. Some came half way round the world just for the weekend. The Japanese demonstrated their art of kite-making, swiftly painting their traditional designs as we watched. They were were also quietly generous. Mr Sakuraba donated two magnificent Tsugaru kites to the festival - an impromptu auction was arranged, and a few more items added, and by the end of the evening 559 pounds had been raised. On a personal level they were generous too - At the photo call, I was caught in the line-up without a kite to show. I reached across to Eiji Ohashi, who was holding two kites and borrowed one of them (a magic ballance kite of the Japanese flag), for the sake of the camera. At the end of the photo's, they simply refused to take it back.
We have the Japanese to thank for Rokkakus, of course, and there were traditionaly decorated Roks flying, but there was also a round of the UK Rokkaku championships flown on the Sunday, with their decidedly Western designs. I had hoped to bring you the results, but I was flying one of Iqbal's applique'd designs and had it cut free with all of the line out and was desparately searching for it in the woods when the final round was fought.
Eventually, we had to pack up and go home, but we had the memories of a true festival to take with us.
---
This page is based on the material submitted to and published in Drachen Magazin

Find this site the laziest way at